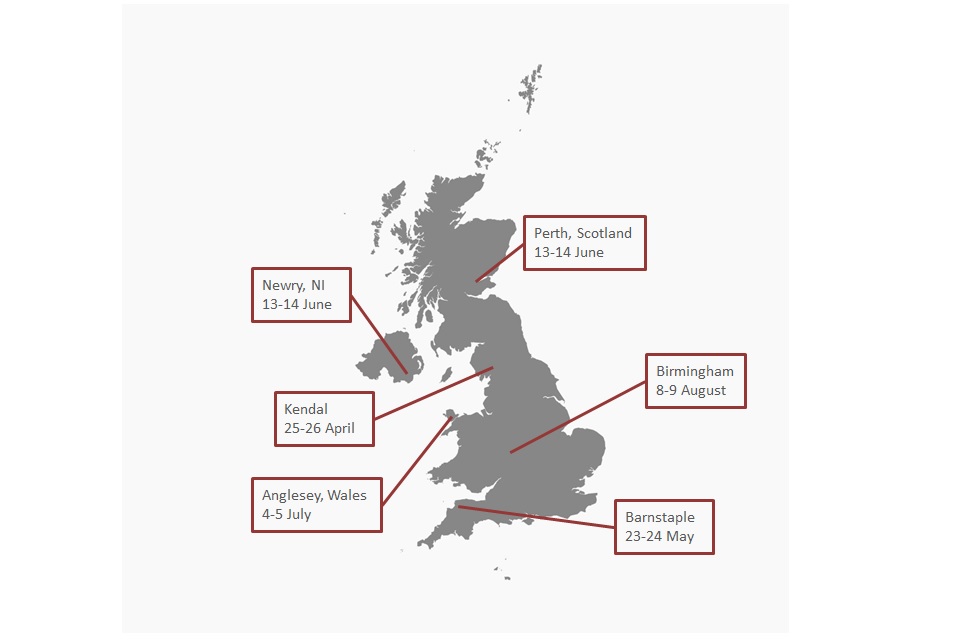 Who are we and what do we do?
The Low Pay Commission is the independent body that advises the Government on the National Living and Minimum Wage rates (NLW and NMW).
Read more...

The Commission is made up of 3 employer representatives, 3 employee representatives, and 3 independents, including our Chair.

Our visits are a vital chance for us to see how the recommendations we make affect people across the UK. They also give workers and businesses an opportunity to speak directly to our Commissioners and influence a policy that affects millions of workers every year. We take what we hear into account when recommending rates to the Government, along with analysis of labour market data and commissioned research.

Last year we met over 50 organisations on 6 visits. We are now looking forward to another great set of visits around the UK.

We have selected another 6 locations to visit this year based on analysis of where minimum wage workers are, and by looking back over where we have visited in recent years. Here we explain why we chose these places, and what we want to find out over the course of the programme.
What do we want to find out?
Our annual written consultation will be launched shortly, detailing all the areas we want to gather stakeholder evidence on. These are the main things we want to hear about though:
How businesses have responded to rising wage costs from the NLW and NMW – has it led to higher wage bills, and what action have businesses taken in response? Has it affected employment levels, productivity, or other pay and benefits?
What workers think of the rates and their employers' reactions to minimum wage increases
This year, we have been asked to look at options for a minimum wage premium for non-guaranteed hours (read more here) as part of the Government's response to the Taylor review of modern working practices – we want to hear what businesses and workers think of this. We are also interested in ideas for alternatives means for tackling the issue of one-sided flexibility in work, which can be a source of insecurity for workers.
We plan to focus this year on the level and workings of the rates for workers aged under 25 – we want to hear about how these work in practice for employers and workers
If you want to meet us on one of our visits and contribute your views on the National Living and Minimum Wages, visit our website.
Where are we going and why?
Kendal and South Lakeland, 25-26 April

Read more...

Kendal and South Lakeland's minimum wage coverage of 12.1% - the percentage of people paid at or below their applicable minimum wage - is well above the UK average of 6.8%,

It is close to areas with a very high share of Apprenticeships as a percentage of youth employment (including Barrow and Fylde), and we are keen to find out more about how the Apprentice minimum wage that we advise on is affecting employers, apprentices and training providers, especially in light of recent policy changes.
Barnstaple and North Devon, 23-24 May

Read more...

Most of the South West of England has a high proportion of minimum wage workers. West Somerset, which borders North Devon, has the highest coverage percentage of any Local Authority in the UK, with almost a quarter of workers paid the minimum wage.

We will be based in Barnstaple but will look to explore the surrounding area to visit employers in a range of settings and sectors.
Perth, Scotland, 13-14 June

Read more...

8.1% of workers in Perth and Kinross (or about 5,500 people) are covered by the minimum wage. In Scotland as a whole, coverage is 5.8%.

We haven't been to Perth for 5 years, and are also keen to talk to businesses from the wider Perthshire area.
Newry, Northern Ireland, 13-14 June

Read more...

The LPC has never visited Newry, so we are keen to see how the minimum wage affects one of Northern Ireland's largest towns.

Minimum wage coverage in Northern Ireland is nearly 12% - the highest of any UK region or country.
Anglesey, Wales, 4-5 July

Read more...

It has been a few years since we last visited North Wales. Anglesey and its neighbours have coverage above the UK average, especially for young people. We will focus on tourism here but want to talk to young people and their employers in a range of sectors too.
Birmingham, 8-9 August

Read more...

We want to meet large and small employers, and also find out how the minimum wage is affecting young workers.

Minimum wage coverage in Birmingham is above the UK average, and it has the most minimum wage workers of any city outside London – 36,000.
Minimum wage coverage in LPC 2018 visit locations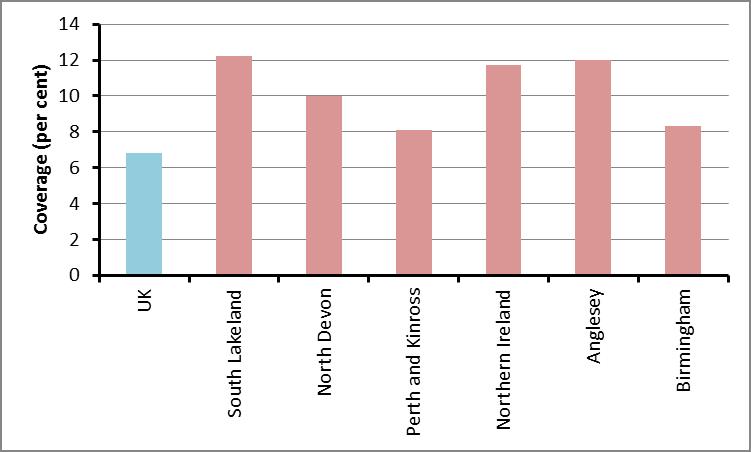 Current and future NLW and NMW rates
| Minimum Wage rate | Current rate (hourly) | Rate from 1 April 2018 |
| --- | --- | --- |
| National Living Wage | £7.50 | £7.83 |
| 21-24 Year Old Rate | £7.05 | £7.38 |
| 18-20 Year Old Rate | £5.60 | £5.90 |
| 16-17 Year Old Rate | £4.05 | £4.20 |
| Apprentice Rate | £3.50 | £3.70 |
| Accommodation offset | £6.40 | £7.00 |