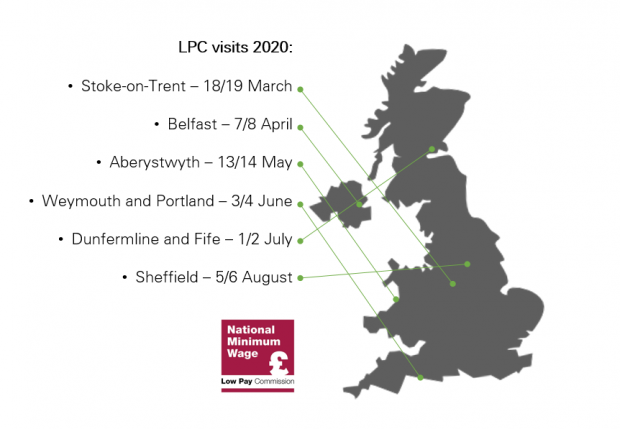 UPDATE - 17 March 2020
In view of the ongoing coronavirus outbreak, and the recent advice to avoid all non-essential travel, we are suspending the Low Pay Commission's programme of visits for 2020.
Getting direct evidence on the state of the economy and the labour market is even more important under current circumstances, but it is very difficult to achieve this with travel restrictions.  We are keen to hear ideas from stakeholders as to how we might still gather this intelligence. For example, where possible, we will look to replace face-to-face meetings with video conferences and calls.
Despite the current restrictions, we'll continue to work to fulfil our remit, during what is likely to be an exceptionally difficult time for workers and employers alike.
_________________________________________________
For more than twenty years now, the Low Pay Commission's regional visits have been an important part of our annual programme. The data alone only gets us so far: talking to the people working on the minimum wage, or the employers who have to make decisions every year based on our recommendations, gives a sense of the importance of our work.
In 2019, we talked to flag-makers in Swansea, bartenders in Ayr, brewers in Hartlepool and fruit growers in East Anglia. We met workers young and old and businesses large and small, national and local, from sectors as different as care, hairdressing and manufacturing.
All of this gave us food for thought ahead of our deliberations at the end of 2019. As previous blogs attest, meeting people face-to-face opens up new perspectives and can give us early signs over things that don't show up in the data until much later.
Where will we be?
This year, we will again be visiting six locations across the UK:
Stoke-on-Trent on Wednesday 18 and Thursday 19 March.
Belfast on Tuesday 7 and Wednesday 8 April.
Aberystwyth on Wednesday 13 and Thursday 14 May.
Weymouth and Portland on Wednesday 3 and Thursday 4 June.
Dunfermline and the Fife area on Wednesday 1 and Thursday 2 July.
Sheffield on Wednesday 5 and Thursday 6 August.
We have selected locations on the basis of their minimum wage coverage, local levels of employment and on how recently the LPC last visited them.
If you are in or near any of the places we are visiting and want to tell us about how your experience of the minimum wage, contact us at lpc@lowpay.gov.uk or 0207 211 8132.
Who do we want to meet?
We are looking to meet with people affected by the minimum wage in all of these locations: workers, employers, local authorities, charities and anyone else with an interest. We are happy to come to you directly or equally to host a meeting ourselves in your area.
What do we want to hear about?
Specifically, we would like to hear about:
Life on low pay, the difference the minimum wage makes and the other factors which affect quality of life and work for people at the bottom end of the labour market.
The specific impacts of the minimum wage on young people and on apprentices.
How businesses have adapted to the rising minimum wage and how they have dealt with the pace of increases in recent years.
The other factors – whether local or national, sector-specific or more general – which affect businesses alongside the minimum wage.
So please get in touch and be part of our consultation process.