At the Low Pay Commission, when we think about geography, we typically think about it in terms of workplace location – i.e. the region, local authority or constituency where individuals work. This is the variable we use for local measures of pay and minimum wage coverage (the number paid the minimum wage). There are two reasons for this: firstly, workplace locations make a better proxy for local labour markets; and secondly, for our visits programme it is easier to use workplace locations to target areas with more low-paying employers. When considering which locations to visit, however, we also look for areas where large numbers of minimum wage workers live.
In response to a request for this information, we have published a document outlining minimum wage coverage by individuals' home location. This short accompanying blog looks at the difference between measures based on where people work versus measures based on where people live.
How similar are measures based on workplace and home?
Broadly, coverage by home local authority is very similar to coverage by workplace local authority. The table below shows that for most local authorities the proportion of workers who are paid the NLW is similar when measured by where individuals work or where they live. However, there are some local authorities where we can see noticeable differences between coverage at home versus work location.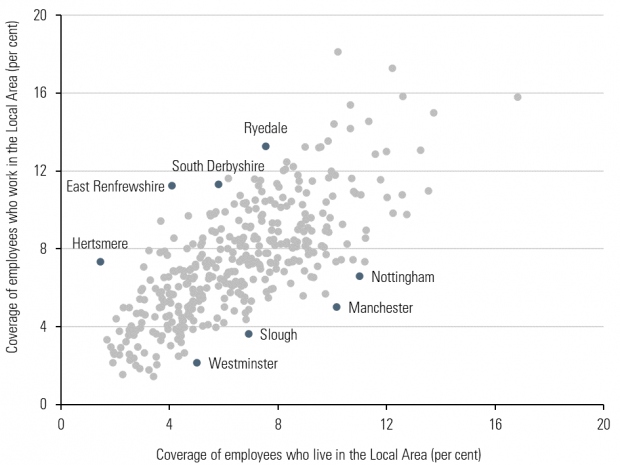 The areas where coverage is noticeably higher when measured on a workplace rather than residence location include Hertsmere, East Renfrewshire, South Derbyshire and Ryedale (as highlighted in the chart above). These are typically (suburban) areas where a higher proportion of residents commute into neighbouring local authorities for work, and these workers are generally higher-paid. Conversely, the local authorities highlighted where coverage is higher on a residence location basis, such as Manchester, Nottingham, Slough and Westminster are areas which have a high proportion of workers who commute in, but in which jobs undertaken by locals are generally less well-paid.
While we will continue to use the workplace definition as our main measure of geographic variation, we will continue to pay attention to areas where there is a difference between the two measures, especially in our visits programme. When we publish area based data we will start to include both work and home locations as standard.