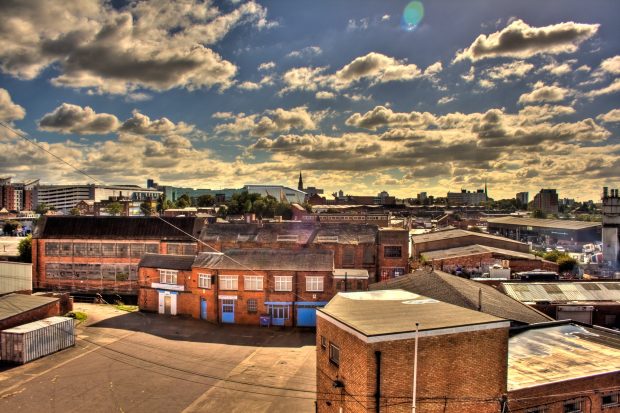 The Low Pay Commission does not have a direct remit when it comes to compliance with the NMW; direct enforcement falls to HMRC on behalf of the Department for Business, Energy and Industrial Strategy (BEIS), with the overall strategic direction for enforcement set by the Director of Labour Market Enforcement (DLME).
Nevertheless, we retain an interest in compliance; it is pointless making recommendations on the levels of the minimum wage if these are not adhered to. Further, every year, the LPC gathers evidence on the minimum wage from workers and employers. And every year, employers and workers alike tell us about the problem of underpayment.
There is a spectrum of underpayment – from 'marginal' underpayment by pennies to more serious forms of abuse, where there is cross-over with serious, criminal forms of exploitation – trafficking and modern slavery.
Garment manufacturing in Leicester has been on the LPC's radar for a long time. Commissioners visited Leicester in 2015 and 2009 and have heard over many years from groups involved in or aware of the problems of non-compliance in the city: UK Fashion and Textiles, the Ethical Trading Initiative, local chambers of commerce and trade union representatives. We have presented this evidence in past reports.
However, neither Leicester nor the garment industry are the only UK locations with a reputation for underpayment.  Many stakeholders have told us that garment manufacturers in London and Manchester may use similar practices, and there are comparable dynamics at work in other industries.  But Leicester is probably the most persistent and notorious.
It is also the best documented – journalists have repeatedly investigated and exposed labour market abuses there. The Environmental Audit Committee have highlighted the problem. Academics from Leicester University have published work on exploitative practices in local manufacturing and their relationship with the fashion industry's wider supply chains. The recent report from Labour Behind the Label was the latest in a long line of such exposés.  In contrast, estimates of non-compliance from official earnings data, which rely on employers' own declarations of pay, barely show a problem in textiles, reflecting efforts to conceal under-payment.
The DLME and HMRC have both taken an active interest in Leicester's textile industry. Although it is not an area we have addressed in recent non-compliance reports, our analysis of the challenges for the enforcement and compliance system is still relevant to the problem there.
Why don't workers report underpayment?
Firstly, we have repeatedly stressed the importance of Government action to encourage workers to make complaints. Many groups have told us about the reluctance of exploited workers to bring complaints and the range of factors behind this.
This is a general problem – the numbers of complaints about underpayment look minuscule compared to our statistical estimates. But the problem is likely to be deepest for the workers suffering the most severe forms of exploitation.
The Government can try to increase the pipeline of complaints by informing workers of their rights or making the complaints system more user-friendly for workers.  BEIS and HMRC carry out both national and targeted information campaigns, with HMRC's targeted 'Promote' work having expanded in recent years. The example of Leicester – where a culture of exploitation seems deeply rooted in a particular location and sector – suggests this work may need to be more targeted still. In Leicester, localised campaigns have been piloted by third-sector groups, targeting the communities most vulnerable to exploitation. There is a case for looking further at initiatives such as this.
Placing the burden on individual workers to raise and pursue complaints creates considerable pressure; many underpaid workers are likely to be reluctant if they feel their employment is precarious, they do not have English as a first language or if they are fearful about their immigration status.
In recent years, we have called for changes to the third-party complaints system. We have heard consistently about the opacity of the system for third parties, especially unions raising complaints on their members' behalf, with little to no feedback on cases they raise. This opacity undermines confidence in the enforcement system among the groups on which it depends.
Building confidence in the third-party complaints system would ease some of the burden of making complaints on the most vulnerable workers. But to bring forward complaints, those workers will need support and encouragement from institutions that they trust – be that unions, charities or community groups. The development of that institutional support has to be part of the solution as well.
What is the role of the enforcement bodies?
HMRC is responsible for enforcing the full spectrum of non-compliance – so faces difficult choices over where it directs its time and resource. Different teams are dedicated to serious non-compliance; others to 'large and complex' cases with a very different profile to the exploitation reported in Leicester. The majority of its caseload falls between these two poles, responding to complaints as they are raised.
And at the more serious end of the spectrum, the enforcement challenge is not only HMRC's – labour market abuses do not come singly and there is a need to coordinate between agencies.
But it is reasonable to state that the fruits of enforcement work in Leicester to date do not match the perceived scale of the problem. Only one textile manufacturer in the city has been included in the Government's naming rounds of employers found to have underpaid workers. The underlying reasons for this are no doubt complex.  For example, we heard from one stakeholder that dozens of Leicester textile businesses are registered at Companies House each month, and there can be large numbers of companies registered at a single address. This means that publicly naming non-compliant employers, a key plank of Government's enforcement efforts, may be less effective than for those with well-known brands. We do not have the answers, and agencies locally have been working to identify and address the challenges.
The DLME's recent 2018/19 report reflects on a joint enforcement initiative in Leicester (the latest in a long line of targeted efforts), where six businesses were visited and four instances of abuse found. The headline numbers may be underwhelming, but the DLME's conclusions match what we have been told by stakeholders – dedicated resource and persistent, coordinated activity over time is required to make a difference to the problem.
Earlier this year, in our report on non-compliance and enforcement, we recommended HMRC think about how it measures the cost-effectiveness of different activities, to better compare the relative value of very different enforcement approaches. This is an important step in judging and explaining what level of resource to commit to enforcing problem areas such as Leicester, and ultimately in understanding how enforcement can contribute to a long-term solution.